Getting back on track - a new strategy for the "new normal"
We've all been knocked off course by the pandemic. We've been massively diverted, and are now trying to find our way back to the main road. Of course, we all know that the main road itself is not where or what it was before – and nor is the landscape we were using that road to navigate.
But we also know that every discontinuity creates problems first, and opportunities second. Law firms and other legal businesses need to assess those opportunities, and adapt themselves to their pursuit. This may require the radical reshaping of parts of the business – but this is the time to do it. Here's how we can help.
Our proposal is a focused, intensive initiative that will take two to three weeks, and will leave you with a clear direction and an initial plan to pursue it.
It contains enough analysis to support the decisions, but the key part is the decisions. There might not be perfect information to support all decisions – but it is important that decisions are taken…
We are not doing this as consultants, although there is some consulting in it. We're doing it as facilitators – the answers to the key questions are your answers, and come from your team. You will own all the outputs and outcomes.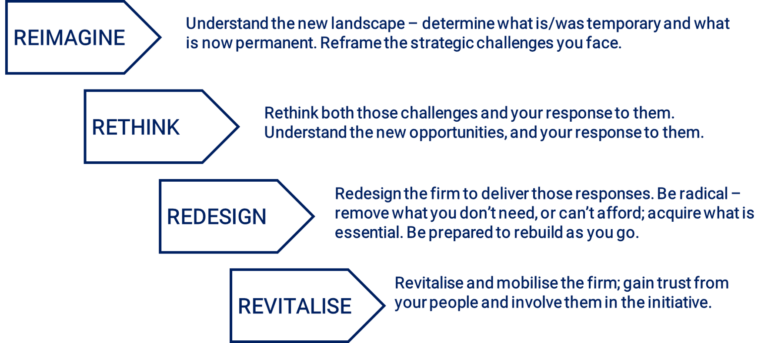 Four short, overlapping phases, dealing with just enough detail to help you make the right decisions.
Our small team (probably two people) will be on site for around three weeks.
Your internal management team should be prepared to put around 50% of its time into steps 1 & 2, for a short period of time  (less than two weeks).
A small group of internal subject matter experts will be needed for step 3
Your internal professionals will want to help run step 4 (to be clear, this is a parallel, not a serial, activity)
Want to know more, discuss or comment?
Please contact Richard Copley on 07793 166787, or email rcopley@anaxas.co.uk
Photo credits:       Header background, Tabea Damm on Unsplash. 
© 2020 Anaxas Business Services Ltd